This Funny Car Driver Only had a Split Second Before his Car was in the Air!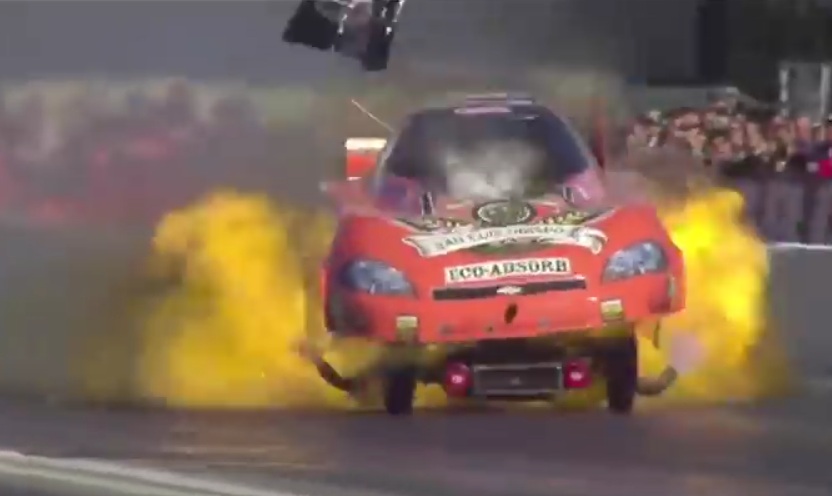 |
Watch Todd Lesenko's Funny Car Explode in this slow motion video during the Finals Qualifying at Pamona.
It's a miracle Todd was able to hold the dragster on the track after the motor began dropping cylinders and the blower exploded.
It all happened in about 3 seconds… His fast reactions and counter-steering after the violent explosion made for a wild ride at around 200mph. The combination of the zoomies dragging on the pavement and the parachutes deploying helped Lesenko keep from having the car flip into an ugly crash.
Todd Lesenko was driving the Nitro-burning, 8000HP, Tap It Brewing/Jim Dunn Funny Car which usually will go over 300mph in the quarter mile.
In the video you will see Todd enduring the stresses of the incident while his helmet is bouncing off the sides of the roll cage.. But he manages to keep his eyes down the track and saves the car while flying from one wheel to the other several times. What a ride!
An NHRA cameraman was able to perfectly capture the ill-fated qualifying run at the 2012 NHRA Finals.
Watch the video in slow motion here:
A competitive funny car like this will usually cost from $200,000 to $250,000. The car will burn somewhere around 20 gallons of nitromenthane fuel costing upwards of $22 a gallon during each burnout and pass down the strip.
The rear slicks cost more than $1600 and are usually only good for a couple of runs.
The car will accelerate past 100mph in about a half a second and pull about 5G's. Then the driver will experience similar forces when the dual chutes are deployed to slow the dragster back down.
Read the HotRod News article here: